Curriculum Developer and Trainer​
STIBC Certified Court Interpreter.
Level 1 Court Interpreter with the BC Courts.
Experienced in Adult Education and Training.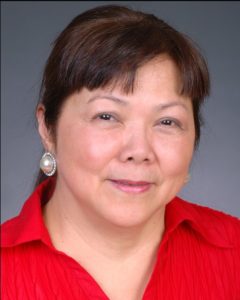 Teresita Nixon is a court interpreter certified by the Society of Translators and Interpreters of British Columbia.  She is a Level 1 Court Interpreter in the Filipino <>English language combination with the BC Courts.  She has 25 years of interpreting experience and 20 years of adult education & training experience.
She has interpreted in all types of court hearings and legal proceedings.  She is experienced in sight translations, written translations, tape transcriptions & translations during trials and examinations for discovery.  She successfully interpreted for the accused or the witness in high profile murder cases in the BC Supreme Court.
In 1994 Teresita started providing interpreting services in court-judicial-legal settings.  In 1997 she registered Aquinas Institute as a sole proprietorship.  In 2005 Aquinas Institute was incorporated under the name of Aquinas Institute Corporation to provide interpreting services in court-judicial-legal settings.  In 2006 Aquinas Institute started offering the Aquinas Court-Judicial-Legal Interpreter Training™ and has been offering the program to interpreters and to the public until to date.  With an extensive interpreting experience, Teresita has been the curriculum developer and trainer of the training program from its inception to the present.
In 2016 she founded Aquinas Legal Interpreters Corporation dba Aquinas Legal Interpreters, which took over the interpreting services of Aquinas Institute.
Many Aquinas graduates are now working as contractor court interpreters in the BC Courts.  One graduate works as a Madam Registrar in the New Westminster Court; another graduate works as a Judicial Clerk in the Alberta Courts; and another graduate works as an Interpreter in the Courts of England.
Teresita was a marker of the Ontario Court Interpreting Exams in the Tagalog-English language combination through the Vancouver Community College from 2009 to 2013.  She has continued to be an exam marker through the Association of Translators and Interpreters of Ontario from 2018 to date.
Moreover, she was a contractor college instructor for eight (8) years in public and private post secondary educational institutions, which included the BC Institute of Technology, City University, Kwantlen College, Sprott-Shaw Community College, Tourism Training Institute, Vancouver Community College, and Vancouver School Board.  She received evaluations with high ratings for her teaching expertise from students.
In the government service, she worked in the Visa Section of the United States Consulate General (Vancouver); the Information Services Branch of the Ontario Ministry of Labour (Toronto);  and the Canada Customs Agency of the Canadian Federal Government (Vancouver International  Airport and Pacific Highway).
In the financial industry, she worked as a loans officer at the Royal Bank (Vancouver) and the Toronto Dominion Bank (Vancouver); temporary account manager at the Bank of Nova Scotia (Yellowknife); and Management Reporting Staff at Citibank (Manila).
Teresita holds a Master of Arts degree in Political Science, major in International Relations and Public Administration, from the University of California in Santa Barbara; a Bachelor, Major in Spanish (real title), from the Instituto de Cultura Hispanica (defunct) in Madrid; and a Bachelor of Science in Foreign Service, Magna Cum Laude Honor, from the University of Santo Tomas in Manila.
One of Teresita's goals in life is to impart to each student everything that she knows about court interpreting and to help the student become a successful court interpreter.